Staffing and Human Capital Management Keynote Speaker
Throughout keynote speeches and books by Tim Sanders, there is a common thread: "People are your company's greatest asset. When you invest in growing them, your organization will feel the love and see a stronger bottom line." His research confirms that investing in human development has an outsize return-on-investment for organizations of all types. He's a big believer that leaders create strong cultures one smart hire at a time.
As you look for a keynote speaker for your next conference in the staffing, human resources (HR) or human capital management (HCM) industry, you want to make sure the expert you select will resonate with your audience, and give them takeaway value that helps them success in management, sales, marketing and customer experience.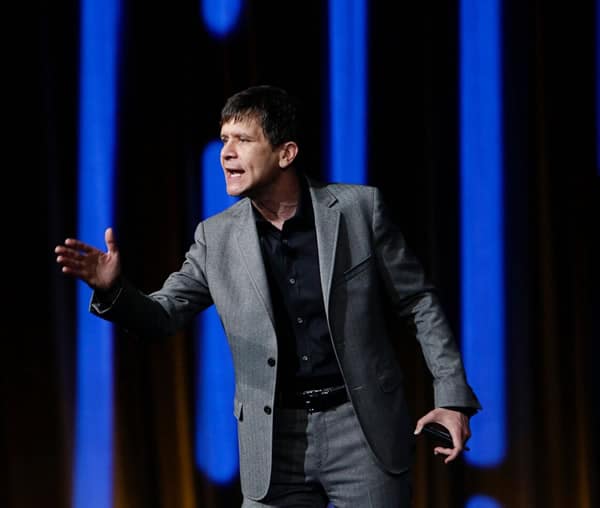 For staffing industry professionals, Tim's talk on Making the Leap to Essential Partner will give them insights on how to retain top clients in competitive markets by adding "ridiculous value" beyond helping managers find talent. For those staffing companies which are looking to promote a people-centric culture, his Leading with Love topic will provide motivation, inspiration and actionable advice on how to put compassion at the center of all leadership, sales and service decisions.
For human capital management providers needing to unleash innovation to keep up with competition and technology, Tim's Disruptive Collaboration keynote will provide a fresh take on the subject as well as a new methodology for problem solving, account based sales and product development.
Tim has extensive experience speaking companies and associations in the staffing, human resources and human capital management industries. His keynote clients include Society for Human Resource Management, CareerBuilder, Randstad, Dice, Bullhorn, Jobvite, Upwork, Shiftgig, ADP, Attendance on Demand, Outmatch, Silkroad, HR Professionals of Ontario, British Columbia HR Management Association, HR Southwest, HR Florida, HR Gulf Coast and Recruitment and Consulting Services of Australia.