Collaboration Keynote Speaker
Collaboration is the act of two or more people working together with a shared vision. When leaders promote it in their cultures, they create organizations that are more innovative and quicker to bounce back from disruption. The keys to effective collaboration are communication skills, design and execution.
Tim Sanders is one of the world's leading experts on corporate collaboration. His career started out during the quality movement, where he led quality circles for an aerospace manufacturer. He went on to work in the mobile phone, internet and media industries, where he sharpened his leadership perspective on collaborative problem solving. For the last decade, he and his team at Deeper Media have studied best practices in this area, and most recently, he wrote a book on the subject which won the Axiom Book Awards Gold Medal in 2016.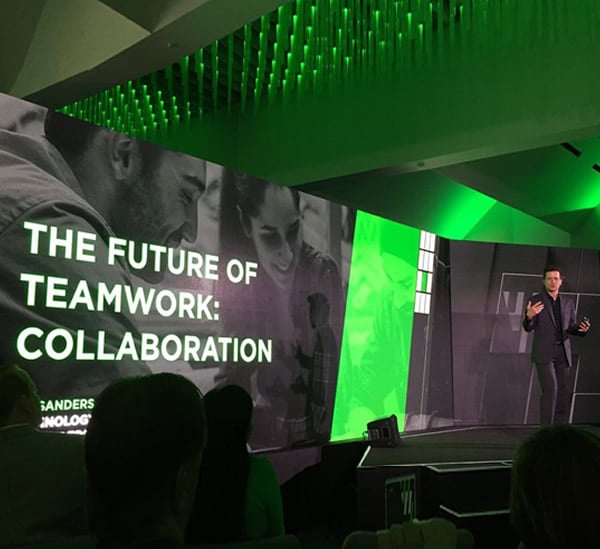 In his view, "collaboration requires a process that creates the right team, for the right reason, led in the right way, towards the right goal." His collaboration keynote serves meeting planners and leadership teams looking to improve their corporate agility, creativity and problem solving skills. His talks draw from a vast library of case studies, where collaboration made the difference to winning market share and surviving adversity. Most importantly, his advice on how to practice collaboration is battle tested in practice with dozens of clients and in his own experience leading teams at Southwestern Bell Mobile Systems, broadcast.com and Yahoo!.
Prior to his keynotes on this subject, he conducts interviews with key leaders at your organization to understand your existing challenges, lone wolf tendencies and opportunities to bring everyone together as a team.
Real innovation happens when diverse minds gather around a shared challenge to work across the lines by collaborating courageously. Today's leader needs to spot these opportunities, sponsor disruptive collaboration projects and focus them on higher purpose.
To land a quality sale in today's B2B landscape, collaboration is required to work through the complexities of selling into the enterprise. This requires sales to work proactively with other departments as well as clients, using a method called Dealstorming. It can triple a team's sales effectiveness and have a positive impact on the entire company's culture, bringing sales, marketing, product and service together.