Financial Services Keynote Speaker
Professionals in the financial services industry face stiff competition for their clients. Disruptive innovations put pressure on their fees, offering robo-advisors and self-service solutions. Wealth transfer to the millennial generation represents a tectonic shift in retirement and investment decision-making. To succeed in this ever-changing environment, financial advisors and industry associates must evolve along with the times.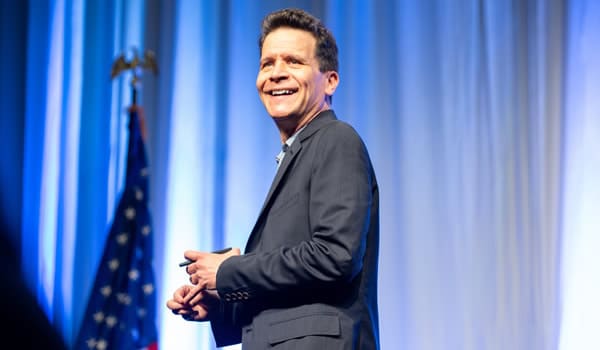 Your corporate, client and association events offer you an opportunity to shape perspectives, provide relevant insights and equip your audiences with next-generation strategies. When you pick Tim Sanders to open your conference, you'll find an ideal match for your attendee's greatest needs. He's a sought after financial services keynote speaker because of his blend of business experiences and pre-event research to tailor his talk to your situation.
For financial advisors and accountants, Tim's keynote on Making the Leap to Essential Partner provides research based advice on what it takes to retain top clients in the long run. "Being a good option is a bad strategy," Sanders says. "Essential partners are a sounding board, a fountain of knowledge and a connector of dots."
For financial technology professionals AKA FinTech, Tim's talk on Disruptive Collaboration delivers a winning strategy for creating a culture of constant innovation and rapid problem solving. "When you want to be the disruptor and not the disrupted, you need to connect your silos of knowledge courageously," he says during this eye-opening keynote address.
Tim has extensive experience as a financial services keynote speaker at company meetings, client summits and financial services association conventions. He's been the keynote speaker for Chase Business Bank, Nationwide Financial, Thrivent Financial for Lutherans, Lincoln Financial, PNC Bank, Wells Fargo, LPL Financial, Prudential Retirement, Hartford Funds, Experian Financial Services Institute, Financial Services Institute, Bankers Insurance, Ameritrade, John Hancock Financial, Mutual of Omaha, Fireman's Fund, CUNA Mutual Group, COOP Financial Services, Fiserv, Advanced Equities, ARC Financial, AXA Advisors, American Century Investments, Renaissance Reinsurance and Sungard.